Highlights at salz21
Prepare for the future - from business matchmaking to the Investors Lounge and the Innovation Area
Investors Lounge
The Austrian Angel Investors Association is Austria's leading network for angel investors and part of the European Business Angel Network (EBAN). The aim of the network is to promote cross-border startup ecosystems and investments. In an investor panel on the topic: "Start local, scale up global", experienced entrepreneurs and investors will discuss how companies, startups, public institutions and private donors in the region strengthen each other and lay a basis for global growth can. The panel is hosted by aaia together with Startup Salzburg. There is also the opportunity to make contacts at an "Investors Meet & Greet" and learn everything about angel investing in a relaxed atmosphere.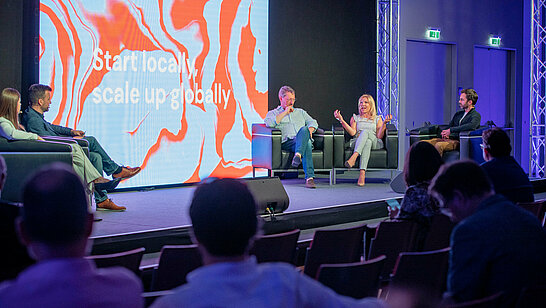 Innovation Area
Innovations to touch, try out and experience. Experience technologies that will shape tomorrow:
Personalized Auditory Reality from Brandenburg Labs GmbH, which is committed to the vision of revolutionizing everyday human hearing.
Novogenia DNA laboratory - experience analysis technologies up close.
Meet & Great with Sophia from Hanson Robotics
Startup Area - meet 50 top-class startups from Germany and abroad
Live on stage - The Dark Tenor
Singer Billy Andrews appears as The Dark Tenor. With over 200.000 albums sold, his work has been awarded Gold status and reached Top 10 in the Charts. Billy's German Headline Tours make The Dark Tenor one of the most successful artists in the pop-meets-classical genre.
Billy deconstructs timeless classical themes, melting them with his own melodies and lyrics. His Motto is to preserve and evolve traditions.
After touring the World as a classical singer Billy found the classical genre to lack momentum. And so the idea of 'The Dark Tenor' was born where Billy's addictive mixture of 'classical meets pop' also brings a rock attitude to the classical world.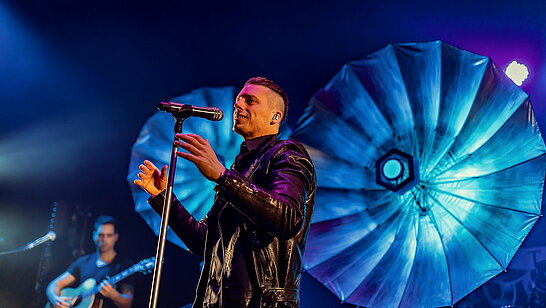 Innovation Days
salz21 is the host of this year's "Innovation Days", where well-known companies and students from different disciplines and universities meet to develop solutions for practical problems. In twelve interdisciplinary teams, the students worked out concepts and prototypes which they presented at the end of an "innovation sprint".
Open Space for everyone
A first slot will use a "cross innovation" to set a process in motion in which it will be possible to be inspired by different branches of industry. For all other units, launch your personal concerns and topics in order to discuss them with other conference participants and to get new ideas. A pin board is available for planning.