Directions & Parking
Whether you arrive by public transport, car, bicycle or on foot - the exhibition center is quick and easy to reach.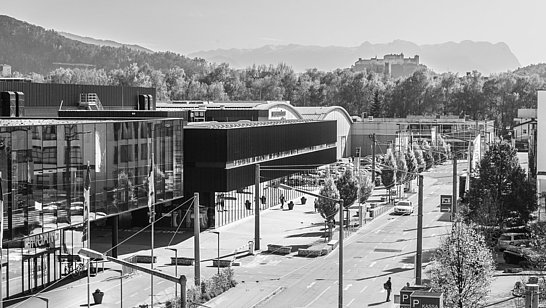 Your Arrival at Messezentrum Salzburg
Messezentrum Salzburg is located directly alongside the A1 motorway. You can reach us via the "Messe" exit. Traffic signs in the city and on the motorway will show you the way.
Caution: Toll sticker obligation in Austria
Toll stickers are compulsory on all motorways and expressways in Austria! You can buy annual toll stickers as well as vignettes for ten days or 2 months.

TOLL-FREE arrival - arrival without toll sticker via motorway A8 (Germany):
Drivers coming from Germany are allowed - without buying the toll sticker beforehand - to drive comfortably on the motorway directly to us from the border crossing Walserberg to exit "Messe"
BUS & TRAIN
Salzburg's main railway station is an important transport hub in the western part of Austria and a fully integrated station of the Deutsche Bahn network. Taxis, public transport and rental cars are available at the main station.
PUBLIC TRANSPORT SERVICE
Messezentrum Salzburg is perfectly connected to the public transport network.
Trolleybus line 1: stops directly at Messezentrum (station "Messe")
Trolleybus line 7: stops right next to Messezentrum (station: "Bessarabierstraße")
Trolleybus line 8: stops directly at Messezentrum and is the fastest way from the city center to the P+R Messe
Starts on April 29, 2023: Bus line 11: stops directly at the exhibition center (next to the parking garage) and continues via Aiglhof - Leopoldskron - Josefiau every 30 min.
Use the route planner of the Salzburger Verkehrsverbund to find the fastest public transport connection.
FREE TROLLEYBUS TICKETS for trade fairs organized by Messezentrum Salzburg GmbH
With the free arrival ticket, the trip by trolleybus to the exhibition center is free of charge for Salzburg Exhibition Center's own exhibitions. Valid in digital (mobile phone) as well as in printed form.
The tickets are available for download on the respective websites one week before the start of the fair:
Event year 2022
From the Old Town you can reach the Messezentrum Salzburg and Salzburg Arena in just under 30 minutes, from Salzburg Central Station in 20 minutes and also via the large network of cycle paths.
Bicycle racks are available on the premises.
Parking at Messezentrum Salzburg
€ 2.00 - drive through
€ 3.00 - 1st hour
€ 3.00 - each additional hour or part thereof
€ 5.00 - flat rate for shows and concerts in Salzburgarena upon presentation of a valid event ticket
€ 9.00 - daily maximum flat rate for Messezentrum Salzburg GmbH's own fairs and selected guest events
€ 10.00 - daily maximum flat rate at the Salzburg Dult
€ 16.00 - daily maximum fee
We would like to point out that unfortunately € 500 notes CANNOT be accepted for payment of the parking fee.
Please note that payment by credit card is NOT possible directly at the exit barriers. Credit card payments can only be made at the automatic car park pay stations.
In Salzburg city center all parking areas are subject to charges (not only the "blue zones"!). Park your car at the P+R car park "Messe" and take public transport directly to the city center at a special rate!
You can find more information about Park + Ride here:
Messezentrum Salzburg has a charging station for e-cars, which is operated by Salzburg AG.
You can pay for your charging with the Salzburg AG "Stromladen" app or by direct payment with credit card or Paypal. Instructions are provided directly on the charging station.
The charging station is clearly marked at the P2 multi-storey car park. There are two sockets (Type 2-Mode 3) and parking spaces available. Your car will be recharged within a few hours.
Information about other charging stations in the vicinity, as well as fast-charging stations, can be found here: